Welcome!
Jan Jordan trained and qualified in London's famous "Harley Street", and is a Fully Certified,  Insured and Licensed Permanent Makeup Specialist and has been based in Hindhead, Surrey since 2011.

Jan specialises in creating natural looking Eyebrows, Eyeliner, and Lips, giving you the perfect lasting look that you have always wanted.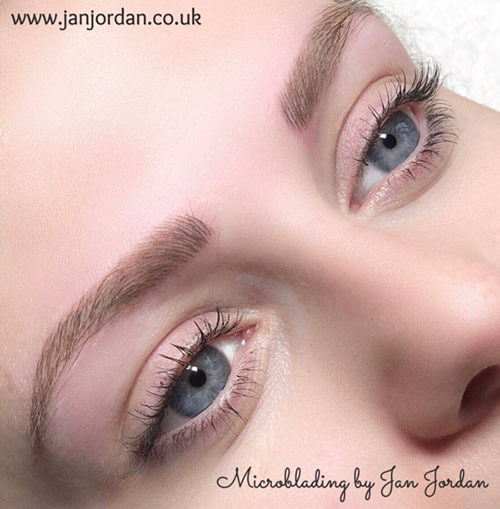 Microblading - The facts
Microblading is a lovely pigment implantation technique, but there are very important things to take into account before deciding to go ahead with this treatment. I'll list the main points:
Microbladed strokes look wonderful and crisp on virgin skin, in other words, skin that has never had any tattooing before.
After time and following top-up sessions, the strokes will be less noticeable and your brows will have the appearance of a "powder brow" look. This is because your skin cells constantly regenerate in and around the tattooed area creating a softening and blurring of the original strokes.
The dryer your skin, the longer the hairstroke affect will last.
Oily skin and skin with a tendency toward redness or flushing will result in the strokes becoming blurred and will create a "powder brow" look far sooner than with dry skin.
Microblading along with all other pigment implantation techniques is categorised as a tattoo and this is why I call myself a "Permanent Makeup Artist". Your tattoo will last and although top-ups will freshen the look, there will be a build up of colour and consequently your pigment is there to stay unless removed with laser removal. Once the laser removal has healed, in most cases you can have pigment implanted again.
The darker the pigment implanted, the stronger your microblading will look and lighter shades cannot be implanted to lighten the colour!
Dark Microblading can fade down over time to an ashy tone.
Warmer pigments can fade down over time creating a red hue.
Remember....if a practitioner tells you anything other than the above...BEWARE!
Please be aware that tattooing is not an exact science and that everyone heals in their own way. Please think very carefully before deciding on going ahead with any tattoo treatment and that although the utmost care is given during your treatment, results are never 100% predictable.


Finally, client satisfaction is of paramount importance to me and I will never try to persuade you into going ahead with any treatments. The decision is yours ❤️
Please go to the "Previously Microbladed Brows" section of the "Gallery" page for examples of brows before and after a "Top-up". The before photo is probably around a year after the client's last session. This gives a realistic idea of how things look once the strokes have softened and the colour has changed. The after photo is how things look directly after the "Top-up" session
Jan Jordan - Founder and Senior Practitioner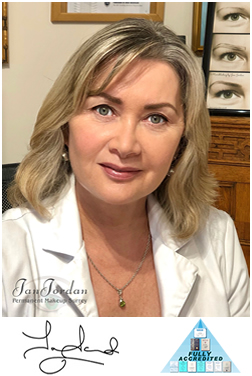 Lacey Jordan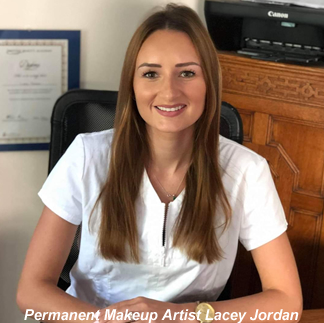 I'd like to introduce my daughter Lacey Jordan, who runs her own permanent makeup business www.laceyjordanpmu.co.uk Lacey runs her business from the same premises as myself. Lacey is fully insured and licensed in her own right. If you'd like to see her work please check out her page on my scrolling "Menu" bar. Lacey's treatments include "Brows" (Microblading, and Ombré), "Aquarelle Lip tattoo" and "Eyeliner tattoo" (Russian Smokey Eyeliner). As Lacey's business is separate from mine, you'll need to contact her directly for more information and to check her diary.
Disclaimer: Please note I only accept responsibility for my own work and I strongly advise you to carefully research all practitioners before deciding to go ahead with any treatments. Your choice of practitioner is entirely at your discretion.